Tables
You have decided to host an outdoor event, and you have a pretty accurate count of the number of guests attending. You have chosen the tent rentals that will fit your space really well. Now it's time to consider your seating (or standing) options. We offer a variety of table rentals for guests to gather around at your event. Our available items include card tables, banquet tables and standard round tables.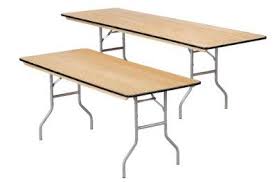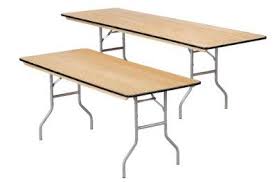 Children Table
(18" High)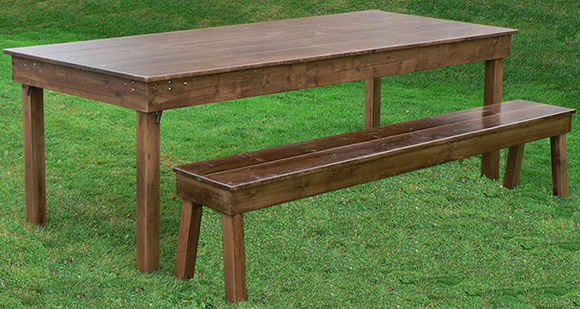 Farm Table 8'x40" Rectangle
Add Bench $25/day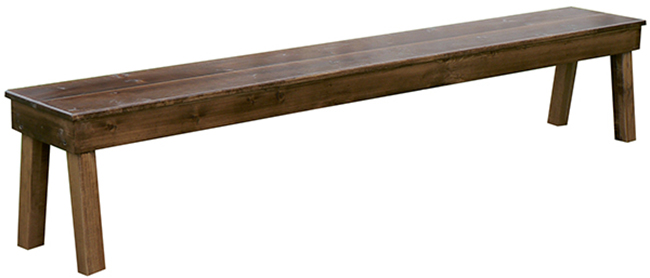 Farm Bench
90" x 13.5" x 18"
An important question to ask yourself as you are determining the type of table rentals you will need is, "Will I need formal seating for all of my guests?" Depending on the table rentals you choose, one table can seat anywhere from 4 to 10 guests. If you are serving a full meal, by all means, your guests will appreciate the option to sit. But if you are hosting a more relaxed party with several activities happening simultaneously, many of your guests may prefer to stand. Opting for bar height table rentals sets the tone for more mingling to take place. The tables serve as a place for guests to gather and chat and a place to set down their drinks while listening to music. This seating arrangement also gives parents on the move a way to socialize while supervising their energetic children in the bounce house rental from a safe and comfortable distance.
We are your one-stop rental facility. In addition to tables, we provide folding chairs, grills, heaters and much more!